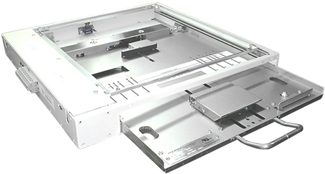 The Poersch/Toshiba reciprocating bucky is designed for use in radiographic tables and vertical bucky stands. The unit has a platform for installation of the Toshiba Solidet ion chamber. For wall installations, order the RXC cover, required for storage of the preamp.

The cassette loading, is easily switched from right hand to left hand by transferring the rear cover and tray stop to the opposite ends. Under normal conditions no maintenance is required. All drive components are rated for continuous duty and life tested for greater than one million exposures.

Note: Bucky pictured with Poersch QJC cassette tray inserted (not included).