POERSCH Metal Manufacturing Co.
4027 WEST KINZIE STREET, CHICAGO, IL 60624, USA
PHONE: 773.722.0890; FAX: 773.722.4122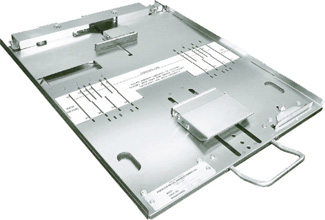 The Poersch Automatic Size Sensing Cassette Tray is designed for use in Radiographic Tables and Vertical Bucky Stands. The Cassette Size Sensing Tray sends a signal to the collimator indicating whether a film cassette is in place; if so, the cassette size is indicated.

High quality construction that never requires adjustment. The Poersch automatic size sensing tray utilizes high precision potentiometers and has undergone rigorous Underwriters Laboratory testing being certified as a UL Recognized Component.

It is available in two models one with the front handle curved up model QJC and the other with the front handle straight model QJS. A five inch wide shelf is provided to aid in supporting and aligning the cassette. Optional extended handles are available if required.

Poersch cassette trays fit buckys manufactured by Liebel-Flarsheim, Progeny, Midwest and Shimazdu.