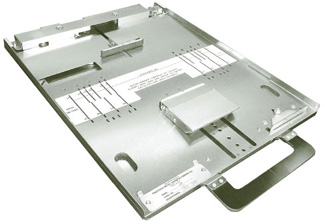 The Poersch Automatic Size Sensing Flexible Handle CassetteTray is designed for use in Radiographic Tables and Vertical Bucky Stands. The Cassette Size Sensing Tray sends a signal to the collimator indicating whether a film cassette is in place; if so, the cassette size is indicated.

High quality construction that never requires adjustment. The Poersch automatic size sensing tray utilizes high precision potentiometers and has undergone rigorous Underwriters Laboratory testing being certified as a UL Recognized Component.

The flexible front handle will flex up or down to cushion against impact and help to prevent injury or damage to the tray. It is made of strong Polyurethane and securely fastened to the tray.

Poersch cassette trays fit buckys manufactured by Liebel-Flarsheim, Progeny, Midwest and Shimazdu.